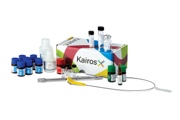 Tutorial Method
This basic method provides the core methodology for translating a workflow into OneLab-executable script(s) as an attempt to fully or semi-automate a specific procedure. It demonstrates the benefits of automation and highlights OneLab capabilities and best practices to promote solution adoption, helping transition from manual to a more automated approach. It can be used alone or serves as a building block for a more complex workflow and is easily adaptable to users' requirements.
Version 1, 2 Oct 2022 at 8:16 AM
To analyze amino acids in biological samples by LC-MS, Waters provides a fast reproducible solution that uses pre-column derivatization built on the AccQ•Tag reaction chemistry, with the ability to quantitate over 40 amino acids in less than 10 minutes. Waters Kairos Amino Acid Kit – High Throughput (500+) enables precise and accurate preparation of over 40 amino acids using the Andrew+ Pipetting Robot.