OneLab

is a browser-based interface to design and execute protocols,
or start from open source methods. Learn more
Use OneLab
Peptide SPE Method Development
Bioanalysis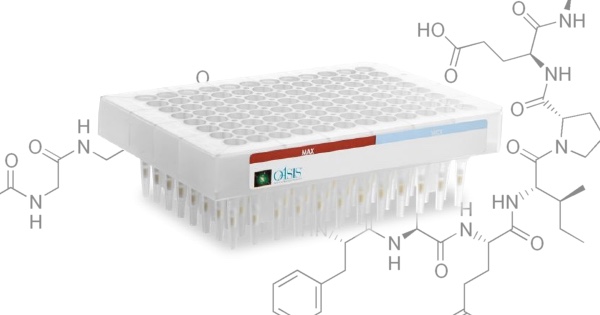 Published by

Waters Corporation
Version 1, 26 Jun 2022 at 8:04 AM
Therapeutic and endogenous peptides can be difficult to extract using SPE with high reproducibility. This is often due to user errors encountered during the extraction process. Here we present an extraction protocol for peptides using the Andrew+ robot which demonstrates rapid and robust automated mixed-mode SPE sorbent selection using the Oasis Peptide Method Development 96 well μElution Plate.
Use in OneLab
Overview
┛This method showcases an SPE-based Sample Prep┏
Peptide Separation Technology (PST) on the Andrew+ Pipetting Robot
LC-MS/MS analysis of biological samples requires extensive sample clean-up procedures to remove matrix components that may adversely affect the quantitation of the target analyte. Peptide and protein-based therapeutics bring their own specific method development challenges which can be time-consuming and tedious.
Here we present an automated Solid Phase Extraction (SPE) protocol using the Oasis Peptide Method Development 96 well μElution Plate for developing a reproducible and robust extraction method for peptides. The 96-well plate format contains six rows each of two Oasis mixed-mode, ion-exchange chemistries: a Mixed-mode Anion exchanger (MAX), which is ideal for peptides with pKa >2-8 and a weak cation exchanger (WCX), which is usually preferred for peptides with pKa >10. Sample preparation method development can be quickly and easily achieved with the use of a single SPE protocol.
Automation of this SPE sorbent selection protocol using the Andrew+ Pipetting Robot makes the entire process rapid, reproducible, and robust with minimal manual intervention. Additionally, automating the approach enables multiple variables (e.g., different compositions for wash and elution solvents or variable vacuum settings, for better recoveries) to be tested in a logical and reproducible manner.
Method Development Protocol for SPE of Peptides from Biological Matrices
All the steps in the SPE sorbent selection method development are automated by the Andrew+ platform (Figure 1). This includes sample dilution, loading, equilibration, washing, elution, post spiking (reference samples), as well as controlling the vacuum of the SPE manifold (except for manually replacing the waste collection plate with the sample collection plate in the vacuum manifold before the elution step). Vacuum control provides stepwise and controlled pressures (pressure gradient) particularly useful for peptide SPE where controlling the rate/time of adsorption and elution can be critical for a good recovery. The SPE extracted samples in this example were quantified by LC-MS/MS.

Figure 1: Andrew+ deck layout for automated Oasis PST SPE protocol for therapeutic peptides.
PST (Peptide Separation Technology) workflow and reagents used for the solid-phase extraction of peptides from plasma samples are shown in Figure 2. In this protocol, the automation of the sorbent selection method using the Oasis Method Development 96-well μElution Plate is demonstrated by extracting four analytes Leuprolide, Goserelin, Pramlintide and Bivalirudin from spiked human plasma samples. Peptides produce good analyte recovery specific to one of the two Oasis mixed-mode sorbent chemistries WCX and MAX depending on the characteristics of the peptide. In this case, Leuprolide, Goserelin, and Pramlintide showed good recoveries using the WCX sorbent, whereas Bivalirudin showed better recovery using the MAX sorbent.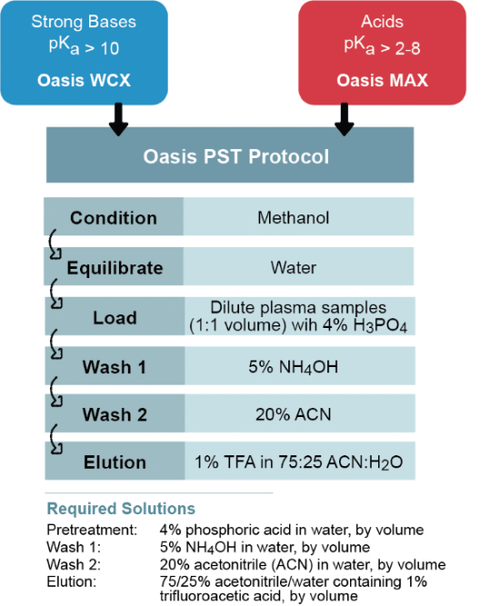 Figure 2: Oasis PST SPE method Workflow.
To demonstrate the reproducibility and robustness of the method transfer from a manual process to automation, this protocol was performed both manually and also automated using the Andrew+ robot. The results generated with manual sample treatment vs automated process shown in Figure 3 demonstrate that this protocol can be adapted to the Andrew+ robot with ease and reliability.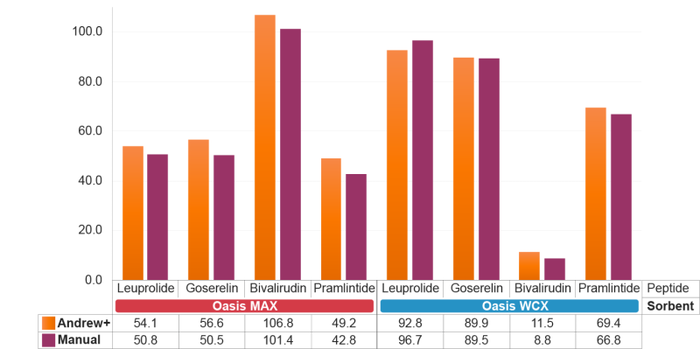 Figure 3: Comparison of peptide recoveries on different sorbents (Oasis MAX and WCX) with manual vs automated process.
ORDERING INFORMATION
Andrew+ System Components: Dominos, Devices, Electronic Pipettes & Tips
Deepwell Microplate Domino | p/n 186009597
2x Storage Plate Domino | p/n 186009596
Microtube Domino | p/n 186009601
Tip Insertion System Domino | p/n 186009612
Microplate Vacuum+ | p/n 176004579
IKA VACSTAR control vacuum pump | p/n 0020109375 for EU/CH, 0020109376 for the US, 0020109377 for the UK
Andrew Alliance Bluetooth Electronic Pipette, 1-ch 300 μL | p/n 186009606
Andrew Alliance Bluetooth Electronic Pipette, 8-ch 300 μL | p/n 186009607
Sartorius, Optifit Tips, 5-350 μL | p/n 700013297
Consumables & Other Systems
Oasis Peptide Method Development 96-well μElution plate, 2 mg sorbent/well | p/n 186004713
Waters QuanRecovery™ 700 µL 96-well plate

| p/n 186009185
Agilent 6-column reagent reservoir | p/n 201284-100
Fisherbrand™ Premium 1.5 mL microtube | p/n 11926955
Falcon® 50 mL conical centrifuge tube | p/n 352070
Waters silicone/PTFE cap mat for 96-well plate, 7 mm round wells | p/n 186006333
ACQUITY UPLC Peptide CSH C18 column, 130 Å, 1.7 μm, 2.1x50 mm | p/n 186006936
ACQUITY Premier LC system
Xevo TQ-XS Triple Quadrupole Mass Spectrometer
Find more Guidelines about Oasis Peptide Bioanalysis in the Reference Card "Bioanalytical Sample Preparation and Method Development for Therapeutic and Endogenous Peptides" (Waters, p/n 720006298EN)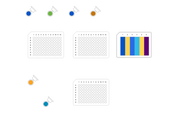 Automated 2X PST Recovery - SPE, Spike & Auto-Vac
Automation method for SPE extraction of therapeutic and endogenous peptides from human plasma samples using the Oasis Peptide Method Development 96-well μElution Plate (Waters, p/n 186004713) on the Andrew+ Pipetting Robot.
Contact info

Published by
Waters Corporation
From the everyday consumer to scientists in the laboratory, we all rely on accurate information to make critical decisions. Waters Corporation is the world's leading specialty measurement company focused on improving human health and well-being through the application of high-value analytical technologies and industry leading scientific expertise.
This is an open access protocol distributed under the terms of the
Creative Commons Attribution License
, which permits unrestricted use, distribution, and reproduction in any medium, provided the original author and source are credited.