OneLab

is a browser-based interface to design and execute protocols,
or start from open source methods. Learn more
Use OneLab
Guided NucleoBond Xtra Maxiprep
Genomics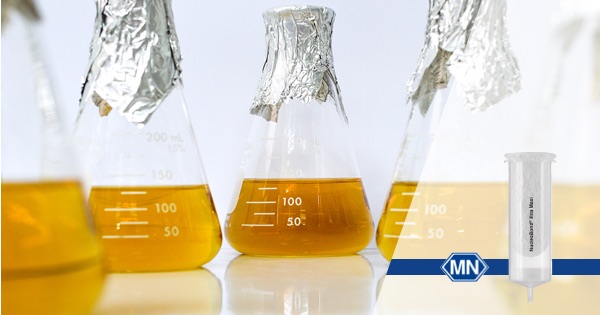 Published by

MACHEREY-NAGEL
Version 2, 30 May 2021 at 8:14 AM
With our long-standing experience in chromatography and nucleic acid purification, MACHEREY-NAGEL is an ideal choice for high-quality plasmid preps. Using NucleoBond Xtra Maxi, yields of up to 1000 μg of ultrapure plasmid DNA can be obtained based on reliable and well-established anion exchange chromatography.
Use in OneLab
Overview
NucleoBond Xtra Maxi - Fast, Clean, and Reliable
An ever-growing range of biochemical applications requires medium to large amounts of plasmid DNA free of contamination with salts and residual bacterial components. Using NucleoBond Xtra Maxi, yields of up to 1000 μg of ultrapure plasmid DNA can be obtained based on reliable and well-established anion exchange chromatography. NucleoBond Xtra Maxi kits contain enlarged columns, which lead to lower silica resin beds. This in turn enables the faster flow of lysate and buffers through the columns. Specially designed column filters are included for convenient and time-saving clarification of bacterial lysates. The column filters are supplied inserted in the NucleoBond Xtra Columns and allow parallel clarification of bacterial lysate and loading onto the column. Their large, structured surface leads to high filter flow rates and minimized risk of clogging.
The following features make NucleoBond Xtra Maxi ideal for plasmid isolation:
Proven anion-exchange technology for highest yields and quality,
Optimized column design for minimum risk of clogging,
Accelerated procedure with NucleoSpin Finishers for a complete prep in approximately 30 min.
NucleoBond Xtra Maxi - Pipette+ Procedure
Transformed (plasmid-containing) bacterial cells are lysed by an optimized set of buffers. After equilibration of the NucleoBond Xtra Column and NucleoBond Xtra Column Filter, the entire lysate is loaded by gravity flow and simultaneously cleared by the NucleoBond Xtra Column Filter. Plasmid DNA is bound to the NucleoBond Xtra Silica Resin. After efficient washing steps, the plasmid DNA is eluted and desalted, precipitated, and easily dissolved in any suitable buffer (e.g., low-salt buffer or water) for further use. Precipitation can be performed by centrifugation using the NucleoSpin Finisher to reduce the total prep time to about 30 minutes or via NucleoMag Desalting Beads.
Figure 1: NucleoBond Xtra Pipette + procedure. After alkaline lysis, samples are onto the NucleoBond Xtra Column. Following the binding of plasmid DNA, a wash procedure ensures efficient removal of contaminants while avoiding any shearing of the plasmid DNA. The DNA is then eluted and can be desalted and/or concentrated using a variety of approaches (e.g., NucleoSnap/NucleoSpin Finishers).
LyseControl — for Highest Yields
LyseControl is a blue reagent premixed for your convenience with Lysis Buffer LYS. Upon addition of lysis buffer to the resuspended cells, the cell suspension turns blue (Figure 2A). The blue solution is gently inverted 5 times and incubated for 5 min to avoid contamination with genomic DNA. Upon addition of Buffer to neutralize the lysate, LyseControl turns colorless (Figure 2C). Traces of blue LyseControl (Figure 2B) indicate insufficient mixing. This step removes SDS, renatures plasmid DNA, and precipitates proteins and genomic DNA. Hence, it prevents filter clogging, maximizes plasmid DNA yield, and minimizes contamination.
Figure 2: Lysate neutralization and LyseControl. Proper mixing of the lysate with Neutralization Buffer NEU (2A) is crucial to ensure complete precipitation of SDS, protein, and genomic (chromosomal) DNA. Released plasmid DNA is very vulnerable at this stage, and shaking too much or too strongly could damage the DNA. Therefore, the mixture should be inverted very gently (DO NOT vortex or shake) until a fluffy off-white precipitate or flocculate has formed (2B). Additionally, the LyseControl should turn completely colorless throughout the lysate without any traces of blue color (2C). Incomplete neutralization leads to reduced yields, slower flow-rates, and potential clogging of the NucleoBond® Xtra Column Filter.
NucleoBond Xtra Anion Exchange Resin
NucleoBond Xtra is a patented silica-based anion exchange resin, developed by MACHEREY-NAGEL. It consists of hydrophilic, macroporous silica beads functionalist with MAE (methyl-amino-ethanol). The dense coating of this functional group provides a high overall positive charge density under acidic pH conditions, which enables the negatively charged phosphate backbone of plasmid DNA to bind with high specificity. The purified plasmid DNA is suitable for use in the most demanding molecular biology applications, including transfection, in vitro transcription, and sequencing.
Figure 3: Ionic interaction of the positively charged methyl-hydroxyethyl-amino group with the negative phosphate oxygen of the DNA backbone. In contrast to the widely used DEAE (diethylaminoethyl) group, the hydroxy group of methyl-hydroxyethyl-amin can be involved in additional hydrogen-bonding interactions with the DNA.
Customer Testimonial
"We have tested many of the market leaders in anion-exchange purification, and the MACHEREY-NAGEL NucleoBond Xtra kits excel in ease of use, speed of preparation, yield, and DNA quality."
Enrique Saez, Ph.D., The Genomics Institute of the Novartis Research Foundation, San Diego, CA, USA
Proven High Yield and Short Preparation Time
Figure 4: A') Yield in comparison to competitor anion exchange-based kits. Plasmid DNA was isolated following each manufacturer's protocol using the maximum culture volume with high plasmid content. The yield of plasmid DNA was determined after DNA precipitation. Comparison: [Category A] Kits including desalting tool, [Category B] Kits without desalting tool. B') Shorter preparation time compared to competitors. NucleoBond Xtra shows up to 60 % time saving and up to 100 % higher yields compared to competitor products. Comparison: [Category A] Kits including desalting tool, [Category B] Kits without desalting tool.
Speed up your NucleoBond Xtra Plasmid Prep Using NucleoSpin Finisher
NucleoSpin Finisher
NucleoSpin Finisher is designed for quick concentration and desalting of plasmid eluates obtained by anion-exchange chromatography. NucleoSpin Finisher replaces tedious and time-consuming isopropanol or ethanol precipitation. Furthermore, problems like lost DNA pellets or incomplete solubilization of hardly visible precipitates can easily be circumvented.
NucleoMag Desalting Beads
NucleoMag Desalting Beads are designed for quick concentration and desalination of plasmid DNA eluates that are obtained by anion-exchange chromatographic plasmid purification kits. Plasmid DNA is bound reversibly to NucleoMag Desalting Beads by the addition of isopropanol followed by an ethanolic wash step. A drying step removes residual ethanol. Finally, pure plasmid DNA is eluted using a low salt buffer (e.g. Buffer TRIS) and is ready for use in downstream applications.
Ordering Information - Kit Consumables by MACHEREY-NAGEL
- NucleoBond Xtra Maxi kit - Anion exchange based plasmid Maxi prep kit (10, 50, 100 preps) | REF 740414.10 /.50 /.100
- NucleoMag Desalting Beads - Magnetic beads for desalting of anion exchange eluates (50 preps) | REF 744410.50
- NucleoSpin Finisher Midi for desalting and concentration of plasmid DNA (50 preps) | REF 740439.50
Visit our MACHEREY-NAGEL Bioanalysis webpage
Find more information about the NucleoBond Xtra Maxi procedure in our manual
Explore our guide for more information about processing clinical samples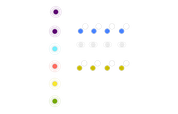 Guided NucleoBond Xtra Maxi, 4 Samples
Isolation of transfection-grade plasmid DNA (4 samples) using Pipette+ and MACHEREY-NAGEL's NucleoBond Xtra Maxi kit without desalting step.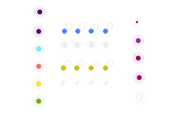 Guided NucleoBond Xtra Maxi 4 Samples + Desalting Beads
Isolation of transfection-grade plasmid DNA (4 samples) using Pipette+ and MACHEREY-NAGEL's NucleoBond Xtra Maxi kit including a magnetic bead-based desalting step.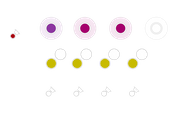 Desalting of 4 Plasmid Maxi Eluates Using Magnetic Beads
Desalting of anion exchange Maxi eluates using Pipette+ and MACHEREY-NAGEL's NucleoMag Desalting Beads.
Contact info

Published by
MACHEREY-NAGEL
MACHEREY-NAGEL was founded in 1911 in Düren as a specialist manufacturer of filter papers. It has evolved into an innovative international company for chemical and biomolecular analysis. It has subsidiaries in Germany, Switzerland, France and the U.S. It has worldwide sales in 150 countries, and has more than 25,000 products in application areas that include water filtration, rapid test, analysis, chromatography, and bioanalysis tools, including DNA and RNA purification products.
This is an open access protocol distributed under the terms of the
Creative Commons Attribution License
, which permits unrestricted use, distribution, and reproduction in any medium, provided the original author and source are credited.