OneLab

is a browser-based interface to design and execute protocols,
or start from open source methods. Learn more
Use OneLab
DNA Sequencing Library Preparation
Genomics, Diagnostics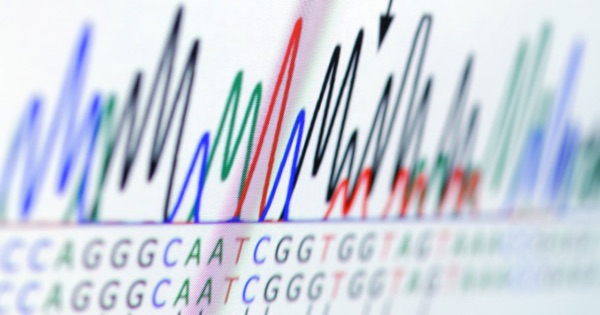 Published by

Andrew Alliance
Version 1, 6 Dec 2020 at 10:26 AM
Library preparation aims to build a collection of DNA fragments for next-generation sequencing (NGS). A high-quality DNA library guarantees uniform and consistent genome coverage, thus delivering comprehensive and reliable sequencing data. OneLab helps you streamline and trace critical steps in your library preparation process to achieve the best possible DNA quality and purity.
Use in OneLab
Overview
DNA library preparation typically involves two phases: the fragmentation of genomic DNA and the ligation of unique adapter sequences required for sequencing cluster generation. The protocol described here uses a process named "on-bead tagmentation" that combines DNA fragmentation and ligation reactions into a single step using beads carrying modified transposomes. These modified bead-linked transposomes, known as BLT, catalyze simultaneously DNA cleavage and the addition of Read1 and Read2 sequencing primers (Figure 1). The improved bead-linked reaction generates highly uniform insert sizes (300-350 bp) regardless of the DNA input amount (1-500 ng) and genome size. Moreover, it includes an integrated DNA normalization process mediated by BLT saturation that delivers a consistent normalized yield of tagmented DNA within the DNA input range of 100-500 ng, thus eliminating the need for downstream quantification and normalization of individual libraries prior to pooling.
Following post tagmentation cleanup, a reduced-cycle PCR amplification incorporates specific combinations of indexes flanked by P5 and P7 adapters for library hybridization on the sequencing flow cell (Figure 1). Amplified libraries are finally purified using a double-sided bead purification procedure to select sequencing-ready fragments with the target insert sizes (500-600 bp). Libraries can then be pooled and subsequently diluted to the starting concentration required for the sequencing system being used.
The overall advantage of this bead-based technology is the delivery of uniform genome coverage together with minimal bias, thus generating high-quality sequencing-ready DNA libraries. This protocol offers high flexibility by supporting a broad range of DNA input (1-500 ng) and is suitable for a variety of NGS applications, from human whole-genome sequencing and large, complex genomes to PCR amplicons, plasmids, and small microbial species.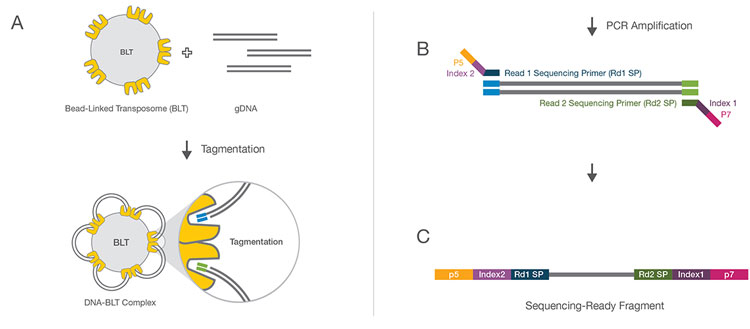 Figure 1: Nextera Bead-Linked Transposome Technology. A) Bead-Linked Transposomes (BLT) drive the simultaneous fragmentation of genomic DNA and the addition of sequencing primers.
B) Reduced-cycle PCR amplification allows for the incorporation of specific index-adapter sequences, thus generating sequencing-ready fragments.
C) Sequencing-ready fragments are finally purified and pooled prior to initiation of sequencing.
Original image from product page "Nextera DNA Flex Library Prep Kit", in Supporting Data and Figures, Illumina.
Watch the video tutorial providing a comprehensive description of a complete workflow from sample preparation using the "Nextera DNA Flex library prep" approach and cluster generation to sequencing and data analysis
Explore Illumina Nextera DNA Flex Library Prep Kit DNA Tagmentation, Cleanup and Amplification - 24 Samples
This protocol, based on Illumina's Nextera Flex library prep, uses on-bead reaction to fragment and tag DNA simultaneously. Adapter-ligated DNA fragments are then washed before DNA amplification. Only early steps of PCR preparation are included.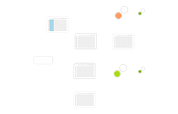 Library Purification - 24 Samples
This protocol, based on Illumina's Nextera Flex library prep, is dedicated for the purification of amplified DNA libraries prior to sequencing.
Contact info

Published by
Andrew Alliance
Reproducibility and traceability for your laboratory, starting from serial dilution design. Connected devices for your lab, allowing you to run daily experiments with effiiciency. affordable automation. Error-free pipetting. Save your time. save your health.
This is an open access protocol distributed under the terms of the
Creative Commons Attribution License
, which permits unrestricted use, distribution, and reproduction in any medium, provided the original author and source are credited.